The older I get, the more I feel like a walking Cathy cartoon. I had a doctor's appointment one morning last week and I had to pee and I unwisely took my iced coffee into the bathroom with me. And somewhere between hanging up my purse and wrestling off my coat, my perfectly milky iced coffee went from being in my hand to …. not being in my hand anymore. Suddenly, there was coffee all over the floor, and the door, and the walls, and — because it was a doctor's office — all over the little tray of pee sample cups in the corner. I was in there for, oh, at least 15 minutes trying to clean it up. It is remarkable how difficult it is to do something as easy as wipe up spilled coffee without having actually had any coffee. For a hot second, I considered drinking the coffee still in the cup — which, at that point, was laying on its side just below the pee cups, having rolled across the floor so the entire rim of the cup was thoroughly bathroom-ed — and I can credit only divine intervention for placing the thought I my head that that was gross and I could just buy another coffee after the appointment. When the doctor was ready, the receptionist came to get me, timidly knocking on the door just as I finished mopping up the spill, concerned and a little confused about what had kept me in the bathroom for so long until she saw the mountain of coffee-soaked paper towels heaping out of the trash can. Weird and uncaffinated, all I did was shrug and say, "It takes coffee to drink coffee, I guess."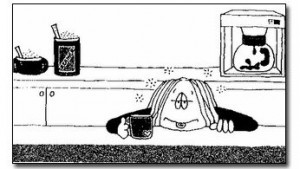 So we all know I'm clumsy, and we all know about my History With Immersion Blenders, and yet here I am with another life-(ok-fine-at-least-limb-)threatening immersion blender dish.
But this one is (again) totally worth the risk. I love refried beans, and I once won a trivia night by knowing that refried beans are fried only once (despite the fact that their name clearly implies at least two fries) so they have an extra special place in my heart. And in South Texas where I grew up, they make that one fry count. We're talking butter and/or lard, and a lot of it. 
The other night, not long after Coffeegate, I made a pot of black beans with the full intention of refrying them. But the beans were already in the pot, and I just couldn't justify pouring the hot beans out of the pot and into a bowl, and then melting butter in the pot, pouring the hot beans back into the pot. In my clumsy Cathy world, two hot bean pours are really just two opportunities to spill hot black beans all over my kitchen, so I decided to skip it. The plan was to puree the beans where they were, in the pot, and then stir in butter until they got to the right consistency. I got out the Elder Wand/immersion blender, made a few cartoonish gestures of safety and/or caution, and blended the beans and their juices until smooth. I tasted the beans, poised to toss in a stick of butter to start, and see how things went from there. But they were good. I tasted again, and they were really good. Like, didn't-need-any-butter kind of good. I tasted again, sure that they would be sticky or dry, but they were rich and creamy, decadent and smooth. I tasted again, just because they were so dang good. And that's when I learned that refried beans don't actually have to be fried at all! In the words of my hero, Cathy, "Ack!"
Flashback! One year ago on Leighto-Greato: Pan-Grilled Skirt Steak and Parmesan Custard and Roasted Asparagus
Fake-Fried Black Beans
Ingredients
1 lb. dried black beans
Water
Salt
Instructions
Rinse beans with cool water. Add the rinsed beans to a large pot (with a lid) and fill with water until the beans are covered by 2-3 inches. To slow soak: cover and set aside overnight. To quick soak: bring the beans up to a boil over high heat. Allow to boil for two minutes, then cover and remove from heat and allow them to soak for 2 hours.
Once the beans are soaked, add salt. I usually use about 1.5 teaspoons, but you might like more or less. Check that the beans are still covered by at least an inch of water -- if not, add water until you get there. Bring up to a boil over high heat, and reduce to a simmer until the beans are tender. How long they will take to cook depends on the bean, but it should take about 2 hours -- I usually let them go for about an hour and then taste every fifteen minutes or so.
Once the beans are fully cooked and tender, you get to the crazy part: just purée them with the bean juice. I used an immersion blender, which was shockingly easy. If you don't have an immersion blender, remove the beans from heat until they are cool and pour them and their juices into a food processor and blitz until smooth. Taste and adjust for salt. That's it.
Serve hot with cheese and cilantro